For 40 years World Vision has made a global difference with its "World Vision – 40 Hour Famine" initiative, and excited kiwi's of all ages and backgrounds.
Creating awareness and raising money, for the 40 Hour Famine, was something I remember canvassing the neighbourhood for as a kid. Back then, we fasted for the 40 hours… These days it's getting really creative.
There are many new challenges being dreamed up by participants, such as: Not using technology, accepting 40 challenges, taking a vow of silence, and paying it forward. These have mostly replaced the abstinence from food, though many are sticking to tradition also.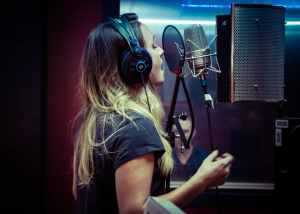 Each year celebrity's band together, and participants can align themselves with their favourite team. This year we have four teams: Jamie, & Kim Crossman (Red Team) / Marty & Steph (Yellow Team. The Edge & Smash) / Michael, Eve, & Adam (Green Team. The 4:30 Show) / Lucy Elliot, & Grace Palmer (Blue Team. Shortland Street).
To help promote her activities,
and raise additional funds for World Vision,
Grace is recording her first single!
I was lucky enough to catch up with Grace Palmer last Friday, with Huz from Early Morning Records, to capture some cool shots while she was recording. She was taking a break from laying down her vocal tracks at Noise Control Studios, which gave us a moment to chat.
The actor, who has a love of music, singing, and song writing, professes she is far more comfortable acting, and usually leaves her vocal talent to shower solos. But she wanted to put all of that aside for the cause.
All proceeds from the track, which will be available on iTunes soon, will go direct to World Vision. Early Morning Records is handling production and distribution free of charge. Noise Control Studios has donated not only the space, but their Senior Audio Engineer, to help bring the track to life. It's a fantastic team effort to support the cause.
Sitting in on the interview, for her 24k Instagram followers,
it was clear that she is a passionate ambassador for the charity,
and knows the creative platforms she can utilise to refocus
awareness in areas that deserve more attention.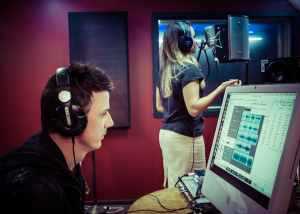 Both Grace, and her team mate Lucy Elliot, have decided to complete 40 tasks in 40 hours. The Shortland Street Facebook Page has been taking requests from fans since April. The dynamic duo, who are extremely passionate to the cause, have already raised $7,657.00 and boast a 576 member team.
This year's spot light for the 40-hour famine is well placed, with proceeds going to assist in overcoming the extreme poverty that afflicts the children, families, and communities living in Bangladesh. Here, the rate of malnutrition is one of the highest in the world, affecting nearly 8 million of it's children.
I hope to be able to share more soon, including a link to the track! For now, keep your eyes open on Grace's Instagram account, or Early Morning Records Facebook Page, to see the latest info as it happens.
Paying it forward for Bangladesh